The Perks of Staying at a Bed & Breakfast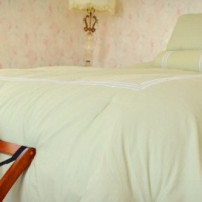 Your overnight stay options include the Upstairs with 3 bedrooms and 1 bathroom (perfect for a small group or family), or our ground floor Suite. Room service from Mary's Restaurant is available.
A breakfast menu from Mary's Restaurant in included in your stay. Extended stay pricing is available. Make your stay even more special by scheduling in-room spa services or a golf package with Kokopelli Golf Club in Marion.
David and Carla, along with their professional staff, will be delighted to host your visit to Herrin. It is their goal to exceed your expectations, and to make your stay both comfortable and enjoyable. Mary's Bed and Breakfast offers all the services and amenities that upscale travelers expect, and their standards are among the highest in the hospitality industry.
"The suite is a wonderful combination of antique and modern, and is both comfortable and luxurious. The complimentary breakfast was delicious, and the whole experience was warm and memorable. We will be telling everyone we know about Mary's!"
– Mr. and Mrs. N. Blache, Carbondale, IL
 The Perks of Staying at a bed & breakfast are many! What perks are those, you may ask?
1. It has a homelike atmosphere – Even though a bed and breakfast place may not have the embellishments of these five-star hotels, its rooms are decorated in a tasteful manner, making you feel like you never left home.
2. It provides an excellent start to the day – When you stay at a joint, there are two things you're guaranteed to have: number one is having a good night's sleep and number two is a great breakfast to start off your day.
3. It's more economical – Having a relatively affordable rate makes such a joint have one up over regular hotels.
4. It's for everyone – This place is an outstanding place to stay for every kind of traveler. This s because staying in one doesn't burn a hole in your pocket.
5. It doesn't have a fixed time for check-ins – A place like this is "informal" in the manner it accommodates guests. Simply put, your host won't hassle you if you check in late.
Tags: affordable, bed & breakfast, comfortable, vacation