A Special 90th Birthday Celebration at Mary's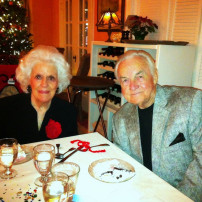 Orwin Stotlar, and his wife Lorraine have been coming to Mary's since Mary opened the doors over 30 years ago. On Saturday, December 28, 2013, the couple's children and grandchildren brought them in to celebrate Orwin's 90th birthday.
The night was filled with reminiscences of times past, when they would sit down with friends and family for birthday dinners, Saturday night get-togethers, or anniversary "dates" with just the two of them. Every one of these memories had one thing in common – Mary's Restaurant was the setting!
When the grandchildren started arriving, they, too, were treated to lunch or dinner at Mary's. In fact, Orwin and Lorraine hosted a brunch for 70 people in honor of their 50th anniversary, 17 years ago! It is customers (dear friends, actually) like this that make Mary's Restaurant so special. We get to be a part of all the special occasions in the lives of our guests, and it is such a joy to see them again and again throughout the years.
Thank you, Orwin and Lorraine Stotlar, for making memories with us. We look forward to the big 70th anniversary party in 2016!
View Our Gallery of photos to see a few snapshots from Mr. Stotlar's 90th birthday celebration, along with some of our other recent guests.
Whether you prefer an intimate dinner for two, or a big celebration with friends and family, we are honored when our guests choose Mary's Restaurant. Contact us to make a reservation for your next special occasion!